Welcome to
The Community Garden Club at Wayne
Wayne, Pennsylvania
We meet on the first Thursday of the month from September to June.
Please note:
While the Radnor Library is closed for renovations we will meet at
Christ Church, Ithan, 536 Conestoga Rd., Villanova, PA
The meet and greet starts at 6:30 and the program begins at 7:00.
Everyone is welcome!

The Community Garden Club at Wayne turned 70 years last spring. Read about our history and see some older pictures of our activities on the "recent events" page.



​

******2018******
Happy New Year


​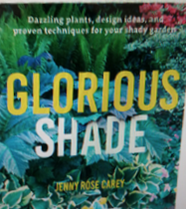 ​
Thursday, February 1, 2018
Shade Gardening

Jenny Rose Carey, the Director of Meadowbrook Farm of the Pennsylvania Horticultural Society
Co-sponsored by the Radnor Memorial Library
Turn Your Shady Yard into a Sumptuous Garden!
Shade is one of the most common garden situations homeowners have, but with the right plant knowledge, you can triumph over challenging areas and learn to embrace shade as an opportunity instead of an obstacle. In this information-rich lecture, Jenny Rose Carey shares her secrets from her new book
Glorious Shade
to successfully garden in the shadiest corners of a yard. You'll learn how to determine what type of shade you have and how to choose the right plants for the space as well as the techniques, design and maintenance tips that are key to growing a successful shade garden. Her lecture is richly illustrated with stunning photographs that she has taken in shade gardens on both sides of the Atlantic.
Jenny Rose Carey is a renowned educator, historian, and author, and the senior director at the Pennsylvania Horticultural Society's Meadowbrook Farm in Jenkintown. She previously worked at Temple University for over a decade, first as an adjunct professor in the Department of Landscape Architecture and Horticulture and then as director of the Ambler Arboretum. Jenny Rose has been lecturing nationally and internationally for many years. She is an avid, hands-on gardener who has gardened in both England and the United States. Her Victorian property, Northview, contains diverse garden spaces, including a shade garden, moss garden, and a stumpery. Jenny Rose and her gardens have been featured on the PBS series The Victory Garden, in the Washington Post, Wall Street Journal, the Philadelphia Inquirer, Green Scene magazine, and the Pennsylvania Gardener.
Thursday, March 1, 2018
Eat More Mushrooms

Tina Ellor, Mycologist/Technical Director of Phillips Mushroom Farms at Kennett Square
Tina will enlighten us on the growing of mushrooms and their nutritional value to our diet. Samples of the many types of mushrooms grown at Phillips will be shared with the club.
Wednesday, April 4, 2018
Stoneleigh: A Natural Garden
Ethan Kauffman, the Director of Stoneleigh
Co-sponsored by Wayne Woods Garden Club
Robert's Elementary School, 889 Croton Rd, Wayne.
Friday, April 6, 2018, 1 pm – 3 pm
Spring Pot 'em Up
Bring gloves and trowels to prepare member's treasures for the Annual Plant Sale.
Location: Betty Mackey's garden


Saturday, April 28 2018
9 am to 2 pm
Plant Sale
St. Mary's Church
Louella and Lancaster Avenues, Wayne
Thursday, May 3, 2018
The Deutsche Bundesgartenschau
, International Garden Festival in Germany
Sharon Richardson
Sharon has attended two shows and will discuss the history and special displays
Sunday, May 6, 2018, 1 pm
Butterfly Garden: Waking it Up
. Location: the Radnor Trail by the Wayne Art Center, 413 Maplewood Ave, Wayne, PA 19087
​
Monday, May 28, 2018
Annual Wayne Memorial Day Parade
. Wear your red, white and blue. Location: Line up at the Radnor Financial Center, 150 N Radnor Chester Rd, Radnor at 9:15 for a parade on Lancaster Avenue through downtown Wayne
Spring 2018
History of the Community Garden Club at Wayne
presented at the expanded Radnor Memorial Library, 167 W Lancaster Ave, Wayne by Evie Giegerich, the Club Historian, in consultation with Anny Laepple and Pam Sedor of the Library
COMMUNITY SERVICE ACTIVITIES
2017 Radnor Township Beautification Award
Sixth Active Aging Celebration at Wayne Senior Center
Plantings at Wayne Senior Center
250
th
Anniversary of Laurel Hill Mansion
Butterfly Garden by the Wayne Arts Center
Annual Holiday Decorations at the old Radnor Memorial Library
Spring Pot 'em Up
Arbor Day at Jenkins Arboretum
Annual Plant and Bake Sale
Annual Wayne Memorial Day Parade
Community Garden Club at Wayne exhibit at Radnor Memorial Library
​
​
---